ABAD INHIBITORS – NOVEL THERAPEUTIC STRATEGY TO TREAT ALZHEIMER'S DISEASE
INTRODUCTION:
Amyloid beta peptide, generally accepted as the main causative factor for the development of Alzheimer's disease (AD), has been shown to interact with the mitoch. amyloid binding alcohol dehydrogenase (ABAD) enzyme through cytotoxic interaction. The direct inhibition of the ABAD enzyme may therefore offer a novel therapeutic strategy to treat AD.
TECHNOLOGY (INVENTION) DESCRIPTION:
We have synthesized a novel series of benzothiazolurea analogues and screened them for their ability to inhibit the ABAD enzyme. Two potent inhibitors, compounds K690 and K691, were identified. Thermal shift analysis has subsequently been used to confirm a direct interaction between compounds K690 and K691 and the ABAD enzyme. ABAD activity was measured in the presence of increasing concentrations of each inhibitor and IC50 values were calculated.
ADVANTAGES OVER EXISTING SOLUTIONS:
ABAD inhibitors represent a new and different strategy in the treatment of AD. Based on our knowledge of ABAD, these inhibitors could prevent amyloid interaction with ABAD in a living model. We suppose that these compounds are able to reverse some of the processes associated with Alzheimer's disease, particularly in its early stages. Evenmore other studies establishd that Aβ may exert an important pathogenic role in the mitochondrial compartment through an interaction with ABAD. Current therapies against this disorder are at best palliative, treating the symptoms of the disease without addressing the underlying cause and thus disease progression and patient death remains a certainty.
DEVELOPMENT STATUS (STAGE):
in vitro evaluation on ABAD, off target screening on other mitochondrial enzymes, cytotoxicity experiments
PUBLICATIONS:
Benek, O.; Aitken, L.;– Hroch, L.; Kuca, K.; Gunn-Moore, F.; Musilek, K.* A Direct interaction between mitochondrial proteins and amyloid-β peptide and its significance for the progression and treatment of Alzheimer's disease. Current Medicinal Chemistry. 2015, vol. 22, no. 9, p. 1056-1085. DOI: 10.2174/0929867322666150114163051. Hroch, L.; Aitken, L.; Benek, O.; Dolezal, M.; Kuca, K.; Gunn-Moore, F.; Musilek, K.* Benzothiazoles; Scaffold of interest for CNS targeted drugs. Current Medicinal Chemistry. 2015, vol. 22, no. 6, p. 730-747. DOI: 10.2174/0929867322666141212120631.
IP PROTECTION STATUS:
Czech granted patent No. 305633 Benzothiazolyl urea derivatives, process of their preparation and their use
TECHNOLOGY / IP OWNERS :
Univerzita Hradec Králové, CZ; Fakultní nemocnice Hradec Králové, CZ; The University Court of the University of St. Andrews, GB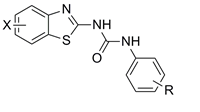 More information is available upon signing a CDA / NDA (Confidential Disclosure Agreement / Non-Disclosure Agreement)