INTRODUCTION:
Ulcerative colitis or rheumatoid arthritis are diseases causing chronic inflammation (either in colon or in joints), which (in the long term) stays behind tissue destruction resulting in pathological changes, pain and loss of tissue function. Due to unknown ethiology of both diseases, a selective treatment is highly problematic
TECHNOLOGY (INVENTION) DESCRIPTION:
Novel pyrimidine derivatives have been prepared and tested for inhibition of nitric oxide (NO) and prostaglandin E2 (PGE2) production using potentiated (LPS) mouse peritoneal macrophage model. Lead compounds were tested in animal models of acute/chronic colitis and rheumatoid arthritis. Compounds were proven to inhibit production of NO, PGE2 and pro-inflammatory cytokines on mRNA level, while inhibition of iNOS, COX-1 or COX-2 enzymes were undetectable. Significant positive healing effects were observed after p.o. application (animal models). Other obtained results (MTD) showed no toxicity of compounds at doses of 2g/1kg b.w.. Furthermore, results of PK assays confirmed sufficient bioavailability and relevant concentration of compounds in blood was observed.
ADVANTAGES OVER EXISTING SOLUTIONS:
In the case of ulcerative colitis there is not other therapy available than surgically removing affected colon tissue. Therefore our compounds would be an alternative and more importantly non-invasive treatment. Our lead compounds show better efficacy in animal models of acute and chronic colitis than the reference drug Mesalazine.
DEVELOPMENT STATUS (STAGE):
Advanced preclinical stage:MTD>2g/kg b.w. confirmed in GLP study on rats. Non-mutagenicity confirmed in vitro GLP tests
PUBLICATIONS:
US patent with priority 2011 granted, EP in proceeding
TECHNOLOGY / IP OWNERS :
Institute of Organic Chemistry and Biochemistry AS CR, v.v.i., Prague Institute of Experimental Medicine AS CR, v. v. i., Prague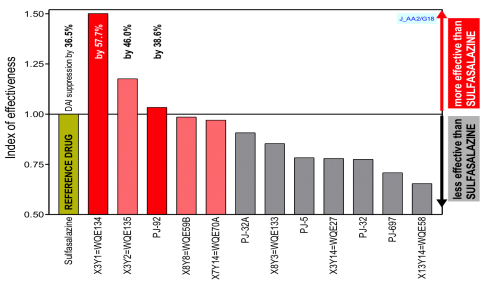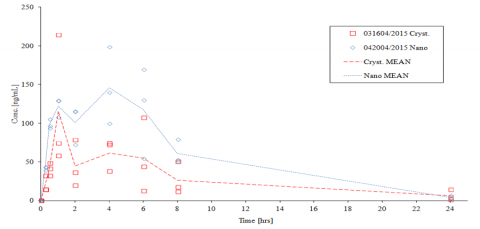 More information is available upon signing a CDA / NDA (Confidential Disclosure Agreement / Non-Disclosure Agreement)