ATOMIZER – NEW TECHNOLOGY FOR DRYING BIOLOGICAL AND THERMOLABILE MATERIALS
INTRODUCTION:
Spray drying is a widely used method of producing a dry powder of a substance or mixture from a liquid by rapidly drying. The technology is used for manufacturing of materials such as foods and pharmaceuticals. However, usage is limited for sensitive materials such as enzymes, vaccines, bacterial cultures, amino acids, etc.
TECHNOLOGY (INVENTION) DESCRIPTION:
The presented technology combines a micro/nanoparticle production by centrifugal micro/nanomaterial technology with technologies using supercritical CO2. The spray nebulization drying technology (CASND) allows materials to be produced in its native state with a maximum conservation of its original biological activities or other primarily material properties. The technology is beneficial for: - Drying of components or materials in the food, pharmaceutical or cosmetic industry, e.g. different types of extracts of plant proteins for the food industry - Drying and encapsulation of microorganisms - Production of special composite of nanomaterials, such as sustained release carriers and targeted delivery of biologically active substances (nutraceuticals, nutritional supplements etc)
ADVANTAGES OVER EXISTING SOLUTIONS:
Other features and benefits of CASND include: - Smaller particle sizes than e.g. spray drying (higher and faster solubility or dispersibility) - Potentially new characteristics of micronized materials (e.g. micronized proteins have improved functional properties such as foaming and emulsifying activity) - Drying takes place continuously and with less energy consumption compared to freeze drying and conventional spray drying - The technology is modular, applicable to different types of industries - Low drying temperatures (25 - 65 °C) allow for gentle and cost-effective processing of thermolabile materials
DEVELOPMENT STATUS (STAGE):
A demonstrator of the equipment is under technical optimization, several materials tested.
IP PROTECTION STATUS:
Ongoing patenting
TECHNOLOGY / IP OWNERS :
DBH Technologies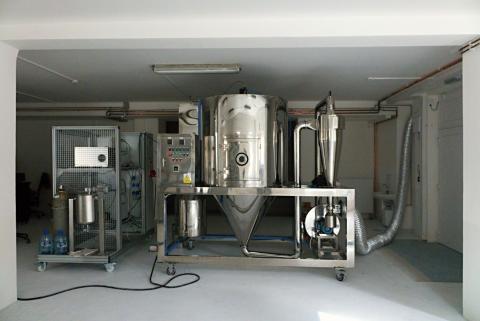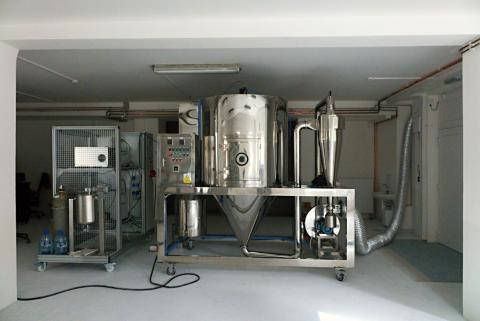 More information is available upon signing a CDA / NDA (Confidential Disclosure Agreement / Non-Disclosure Agreement)