Bifunctional cyclam based ligands for conjugations with targeting vectors and their 64-Cu radiopharmaceuticals for PET imaging
INTRODUCTION:
The presented cyclam based ligands combined with copper radioisotopes can be used for the visualization of bio-distribution of many biologically active compounds used in Positron Emission Tomography (PET) imaging. By leveraging this novel theranostic approach, our compounds allow the determination of the dose during the diagnostic stage.
TECHNOLOGY (INVENTION) DESCRIPTION:
64-Cu is an emerging PET radioisotope with a half-life of ~12 h and a soft positron emission. Cyclam based ligands (= chelators), are highly selective chelators for copper over metallic impurities (e.g. nickel and zinc), were modified with a highly hydrophilic bis(phosphinate) pendant arm. Bifunctional chelators containing carboxylic, amine, isothiocyanate, azide or cyclooctyne groups were synthesized and conjugated to various substrates and biologically active targeting molecules (oligopeptides, antibodies or their fragments, folic acid, bis-phosphonates etc.).
ADVANTAGES OVER EXISTING SOLUTIONS:
The chelators and their conjugates incorporate 64-Cu very efficiently even at room temperature and with very low chelator excess, producing radiopharmaceuticals with high specific activities. The 64-Cu-labelled molecules are stable in-vivo without non-specific deposition of the radiometal and is easily excreted from body. The chelators represent a novel and unique family of ligands which have the best labelling efficiency among published copper chelators.
DEVELOPMENT STATUS (STAGE):
Available for demonstration. Samples for radiolabeling tests are available on demand.
PUBLICATIONS:
T. David et al., Inorg. Chem. 2015, 54, 11751−11766 http://pubs.acs.org/doi/abs/10.1021/acs.inorgchem.5b01791
IP PROTECTION STATUS:
International Patent Application published under PCT
TECHNOLOGY / IP OWNERS :
Charles University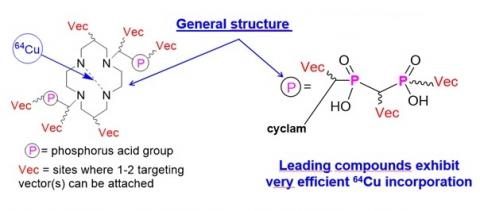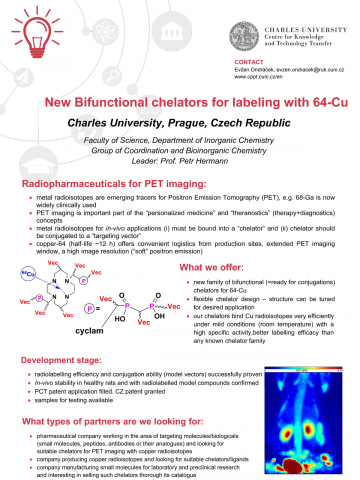 More information is available upon signing a CDA / NDA (Confidential Disclosure Agreement / Non-Disclosure Agreement)