Biologically Active Derivatives of N6-Benzyladenosine-5´-Monophosphate
INTRODUCTION:
Cytokinin ribosides are phytohormones with anticancer activities against a range of cancer cell lines including leukemia stem cells. Their activity was confi rmed in several xenograft models.
TECHNOLOGY (INVENTION) DESCRIPTION:
The present invention relates to the use of a compound of formula (I) for treatment of patients suffering from cancers or other proliferative disorders. Cytokinin ribosides, N6-substituted derivatives of adenosin, have only a limited water solubility which complicates preparation of pharmaceutically acceptable formulations. Introduction of 5´-phosphate moiety increases polarity and allows much higher solubility. Parent compound is released by the activity of serum/tissues esterases.
ADVANTAGES OVER EXISTING SOLUTIONS:
The invention provides a novel class of cytokinin prodrugs with improved solubility profile.
DEVELOPMENT STATUS (STAGE):
Laboratory scale, data on cell lines, limited ADME/Tox data.
PUBLICATIONS:
McDermott S. P., Eppert, K., Notta, F., Isaac, M., Datti, A., Al-Awar, R., Wrana, J., Minden, M. D., Dick, J. E. A small molecule screening strategy with validation on human leukemia stem cells uncovers the therapeutic effi cacy of kinetin riboside. Blood. 2012 Feb 2;119(5):1200-7. doi: 10.1182/ blood-2011-01-330019. Epub 2011 Dec 9. PubMed PMID: 22160482. Voller, J., Zatloukal, M., Lenobel, R., Dolezal, K., Beres, T., Krystof, V., Spíchal, L., Niemann, P., Dzubak, P., Hajduch, M., Strnad, M. Anticancer activity of natural cytokinins: a structure-activity relationship study. Phytochemistry. 2010 Aug;71(11-12):1350-9. doi: 10.1016/j.phytochem.
IP PROTECTION STATUS:
Patents: CZ 303327 EP 2 563 801 US 2013/0040908 ZA 2012/07173
TECHNOLOGY / IP OWNERS :
BioApex, s.r.o., Olomouc Palacky University Olomouc – Institute of Molecular and Translational Medicine (IMTM), Faculty of Medicine and Dentistry, Faculty of Science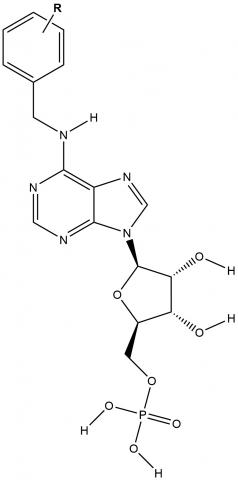 More information is available upon signing a CDA / NDA (Confidential Disclosure Agreement / Non-Disclosure Agreement)