INTRODUCTION:
The presented technology relates to a new method of production of synchronized adherently growing cell lines that can be used especially in laboratories for basic and applied research, and provide also a complete technological solution for carrying out said method.
TECHNOLOGY (INVENTION) DESCRIPTION:
Reversible proliferation block of adherently growing cells in a specifi c phase of cell cycle based on anchorage dependence mechanism is achieved by using a specialized device. The conception of the device equipped by its own high-power battery allows the usage in standard cell incubators and is fully compatible with standard tissue culture plastic. The device consists of a special vibration unit which causes a defined vibration deflection of a freely suspended platform. This vibration causes a movement of the culture medium in a standard culture bottle which is firmly attached to the platform with elastic straps. Such defi ned mechanical forces are causing a release of mitotic cells into suspension because they are physiologically incapable of full adhesion.
ADVANTAGES OVER EXISTING SOLUTIONS:
Our product offers a unique way for obtaining synchronized cell population reversibly arrested in late telophase with minimum stress affecting the cells fi tness. Moreover it is cheap for production and is compatible with standard laboratory equipment and consumables. It is also very easy to use and its primary purpose of usage can be extended to a programmable self-powered shaker usable for other labtechniques.
DEVELOPMENT STATUS (STAGE):
Prototype. Validation studies on different cell lines.
IP PROTECTION STATUS:
CZ 302682 EP 2 419 503
TECHNOLOGY / IP OWNERS :
Palacky University Olomouc – Institute of Molecular and Translational Medicine (IMTM), Faculty of Medicine and Dentistry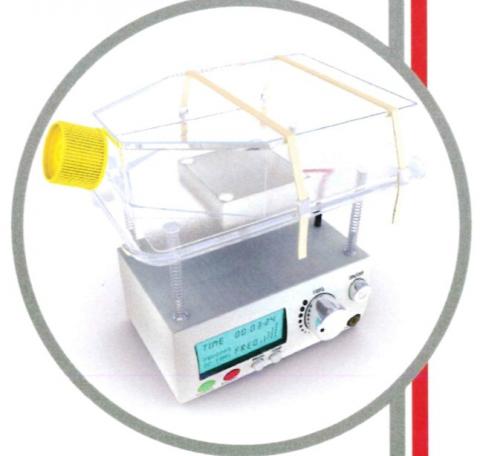 More information is available upon signing a CDA / NDA (Confidential Disclosure Agreement / Non-Disclosure Agreement)