CellCount – kit for the cell number quantification
INTRODUCTION:
Cell quantification is widely used in the basic or applied research including drug-discovery research. There are a several methods for cell number quantification but all of them suffer from various problems such as the dependence on the metabolic state of cells, necessity of cell lysis for sufficient sensitivity, the use of non-fixed cells, etc.
TECHNOLOGY (INVENTION) DESCRIPTION:
The CellCount is a kit for the fast and sensitive quantification of adherent cells. The method is based on incubation of samples with strong enhancers of fluorescence of DNA dyes. It results in the quick de-staining of DNA and, simultaneously, in an up-to-1,000-fold increase of the fluorescence intensity. The method is sufficiently sensitive to reveal around 50-70 human diploid cells. The procedure was successfully tested for the analysis of cytotoxicity of various drugs. In contrast to the highly popular tetrazolium-based assays, the method exhibits high signal linearity and enables quantification of cells exhibiting low metabolic activity including senescent cells.
ADVANTAGES OVER EXISTING SOLUTIONS:
- Cells can be cultivated and processed in various types of vessels; - Less than 2 hours is necessary for the procedure's completion; - Compatible with immunocytochemical detections, detection of DNA replication and cell cycle analysis by image cytometry; - Results are unaffected by the metabolic state of cells; - Samples can be stored for several weeks before evaluation; - The signal is stable for more than 20 days at room temperature
DEVELOPMENT STATUS (STAGE):
Laboratory scale, data on cell lines
PUBLICATIONS:
Ligasová A., Koberna K., Quantification of fixed adherent cells using a strong enhancer of the fluorescence of DNA dyes, submitted to Scientific Reports
IP PROTECTION STATUS:
CZ307415 – granted Czech patent EP 18169749.1 – pending European patent application
TECHNOLOGY / IP OWNERS :
Palacký University Olomouc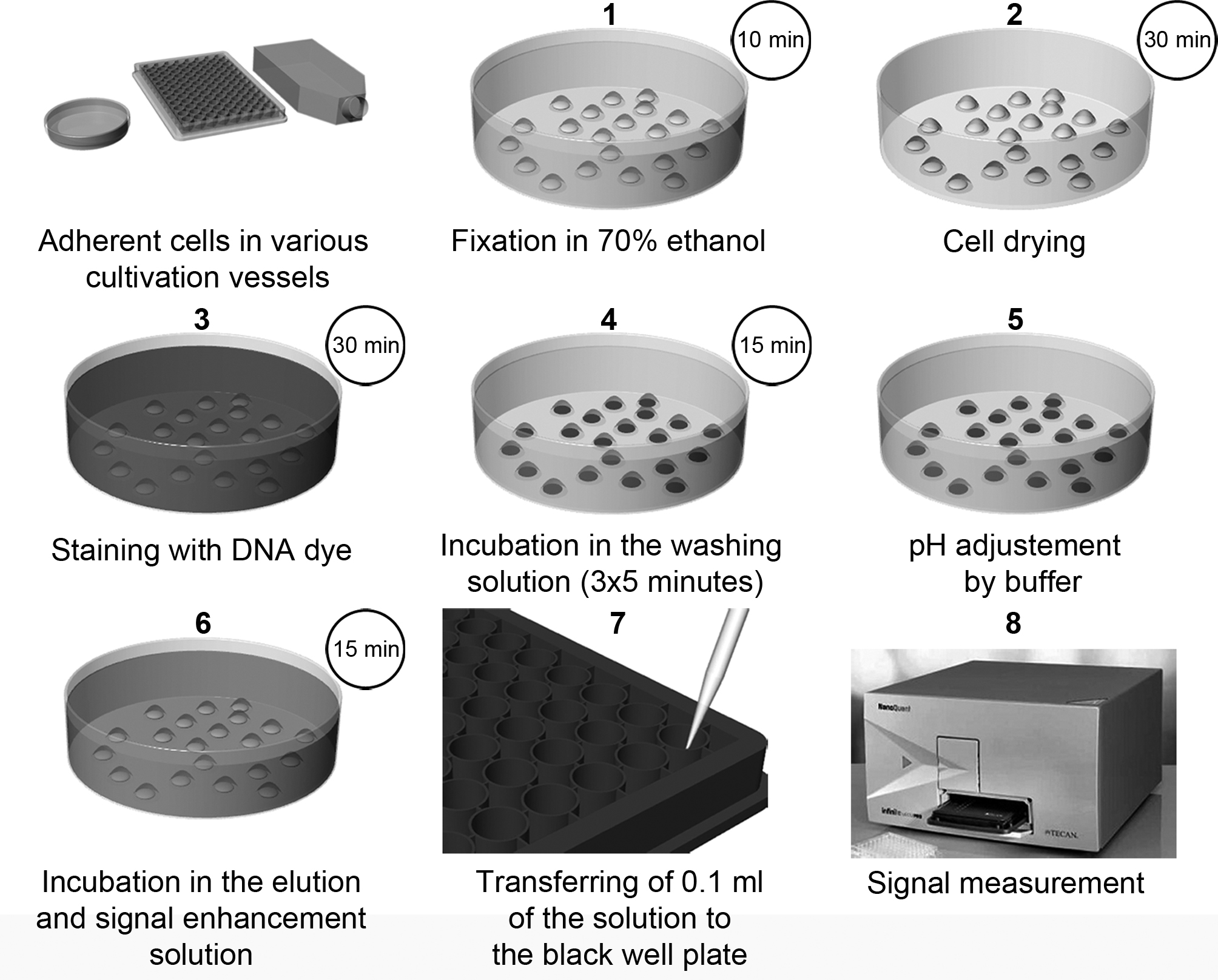 More information is available upon signing a CDA / NDA (Confidential Disclosure Agreement / Non-Disclosure Agreement)