Culture chamber for biocompatibility testing of opaque implant material and live cells
INTRODUCTION:
Culture chamber is suitable for analysing interactions of inoculated living cells on the surface of an opaque material. Cells' behaviour is visualized using time lapse cinemicrography. It is illuminated by incident light. The photographic record is evaluated both quantitatively and qualitatively.
TECHNOLOGY (INVENTION) DESCRIPTION:
The technology applies incident light microscopy to capture the dynamics of cellular behaviour on a tested material. It is suitable for all microscopy systems which support time lapse cinemicrography and a corresponding environment. The innovative part is the use of a syphon which prevents the surrounding environment from penetrating the chamber. The syphon is filled with non-toxic viscous liquid. The technology has been introduced in a pilot stage. Things that need to be addressed are the placement of thermoregulation in the body of the chamber and modification of the upper part of the chamber which would allow for atypical samples. Peristaltic regime counts on low volume of medium (0,1 – 0,3 ml per hour).
ADVANTAGES OVER EXISTING SOLUTIONS:
The main disadvantage of the already existing solutions is a complicated assembly of the chamber. The problematic part is the arrangement of the sealing insertion which can leak, thus impairing the whole observation. Moreover, if two compartments are arranged on top of each other, it decreases the visibility of the phenomena in the individual compartments and causes low quality of the resulting visual documentation. The advantage of our technology is also its compatibility with simpler microscopes which support photo or video recording, thus including also the applications which deal with research and development of new materials – that is non-biological research facilities.
DEVELOPMENT STATUS (STAGE):
The technology has been introduced in a pilot stage.
IP PROTECTION STATUS:
Czech Utility Model No 26349 registred on the 13th of January, 2014.
TECHNOLOGY / IP OWNERS :
The IP owner is Masaryk University.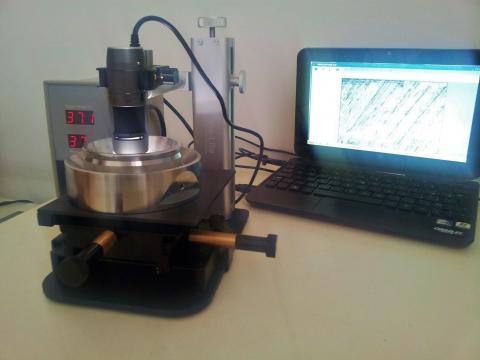 More information is available upon signing a CDA / NDA (Confidential Disclosure Agreement / Non-Disclosure Agreement)