Enhancement of the output voltage of galvanic cell above thermodynamic value: How to get 3 V from 1.5 V accumulator
INTRODUCTION:
The output voltage of a galvanic cell is enhanced by the modification of its architecture – precise placement of the internal electrodes multiplies the voltage of the original cell.
TECHNOLOGY (INVENTION) DESCRIPTION:
The enhancement of the output voltage is usually achieved by serial stacking of primary cells. The output voltage of our improved galvanic cell is enhanced by a simple change in an internal architecture. Whole design is realized in the one volume of an electrolyte, in a single container. The multiplied value of the voltage of the original primary cell is thus obtained for the improved single cell. Our approach simplifies the issues of energy supply potentially leading, for example, to the usage of lower number of accumulators and cells.
ADVANTAGES OVER EXISTING SOLUTIONS:
This concept is generally applicable for all types of chemical energy sources (employing an electrolyte) – galvanic cells (batteries) and for fuel, enzyme and microbial based biofuel cells. It provides the possibility to be used as an energy source for the simple, one-purpose and specialized applications where it will be integrated into the body of the electronics. Moreover, it seems optimal also as a solution for implantable analytical devices powered by biofuel cells using substances available in the living system, e. g. glucose, electrolytes.
DEVELOPMENT STATUS (STAGE):
The principles of the function were described; output characteristics of the developed primary cell are being determined
PUBLICATIONS:
One research publication was send to the international journal for consideration.
IP PROTECTION STATUS:
Czech patent application submitted (nr. PV 2017-472).
TECHNOLOGY / IP OWNERS :
Masaryk University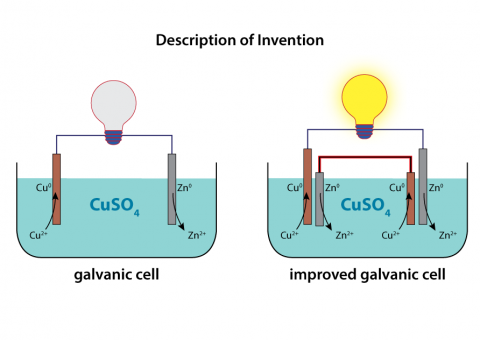 More information is available upon signing a CDA / NDA (Confidential Disclosure Agreement / Non-Disclosure Agreement)