Enhancing effect of ATM/ATR/DNA-PK inhibitors on oncology treatment with standard chemotherapeutics
INTRODUCTION:
Nearly two-thirds of all cancer patients receive some type of radiotherapy or chemotherapy which induce DNA lesions, esp. double strand breaks. DNA repair pathways play a major role in tumor resistance towards chemo- and radiotherapy. Inhibitors of specific DNA repair pathways might be advantageous when used in combination with DNA-damaging agents.
TECHNOLOGY (INVENTION) DESCRIPTION:
We have designed and synthesized 52 novel compounds and screened them on the panel of nine cancer and one healthy cell lines alone and in combination with a standard chemotherapy agent doxorubicin. Our compounds alone did not affect the cell growth significantly. However, several compounds greatly enhanced cytotoxic effect of doxorubicin. Data from the most active compounds are shown in the figure 1. The most promising compound is probably K1292. Together with doxorubicin, this compound lowered the number of living cells under 5% compared to control (100%) in three cell lines – HeLa, AGS, and A549. No chemosensitization effect was observed in healthy lung fibroblast MRC-5 cells. K1292 has a simple structure, easily accessible by standard organic synthesis and reasonable aqueous solubility.
ADVANTAGES OVER EXISTING SOLUTIONS:
Majority of compounds currently known to specifically inhibit DNA-PK are limited by insufficient selectivity or poor pharmacokinetics: these compounds have poor solubility and have high metabolic lability in vivo leading to short serum half-lives. Our newly sythesized compounds passed through calculations and evaluation of physical properties and molecular descriptors to be new drug candidates.
DEVELOPMENT STATUS (STAGE):
9 cancer cell lines
PUBLICATIONS:
not published yet
IP PROTECTION STATUS:
patent application before publication
TECHNOLOGY / IP OWNERS :
University Hospital Hradec Králové; Faculty of Medicine in Hradec Králové Charles University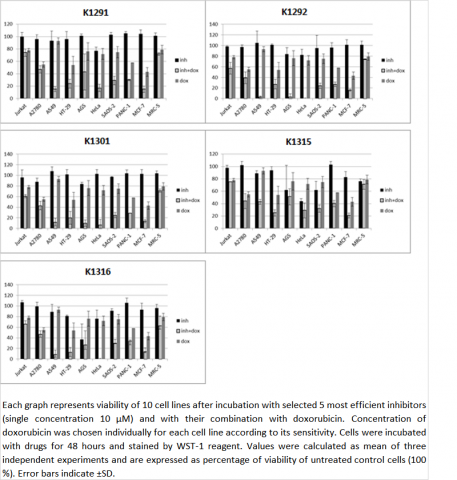 More information is available upon signing a CDA / NDA (Confidential Disclosure Agreement / Non-Disclosure Agreement)