fastPCR, kit for predictive RAS genotyping in metastatic carcinoma
INTRODUCTION:
Treatment of metastatic colorectal carcinoma by anti-EGFR biological drugs needs confirming wildtype status of NRAS and KRAS genes. Standard Next generation sequencing allows high throughput RAS genotyping with a high sensitivity; however, with it has unacceptable failure rate and tedious manual steps.
TECHNOLOGY (INVENTION) DESCRIPTION:
To improve RAS Next generation sequencing robustness and user-friendliness, we developed a novel approach. Our approach is able analyze numerous number of codons of highly degraded DNA. The technology is based on the single step polymerase chain reaction amplification of tumor DNA from formalin fixed paraffin embedded samples with parallel incorporation of sequence tags required for reliable ultra-deep sequencing using MiSeq® (Illumina) platform. Using this technology, only about 1% of samples remains unanalyzable what superceeds 5 to 20% failure rate of other Next generation sequencing methods. Moreover, our approach applied to RAS testing enables to get genotyping result within 4 hours from extracting DNA while hands-on time is only 30 min. Kit is fully validated and stable at -20°C.
ADVANTAGES OVER EXISTING SOLUTIONS:
Amplicon length below 120 bp, amenable for potentially degraded DNA from formalin fixed paraffin embedded samples. Several steps combined into one, improving user-friendliness, shortening hands-on time and overall time to result. Robust. Externally tested with success. Fully validated.
DEVELOPMENT STATUS (STAGE):
Fully validated and stable kit, ready for dispatch (patenting, licensing etc.).
PUBLICATIONS:
Publication is being prepared and will be issued after patent protection.
IP PROTECTION STATUS:
Not protected yet.
TECHNOLOGY / IP OWNERS :
Rastislav Slavkovský, Jana Stránská, Jiří Drábek, Marián Hajdúch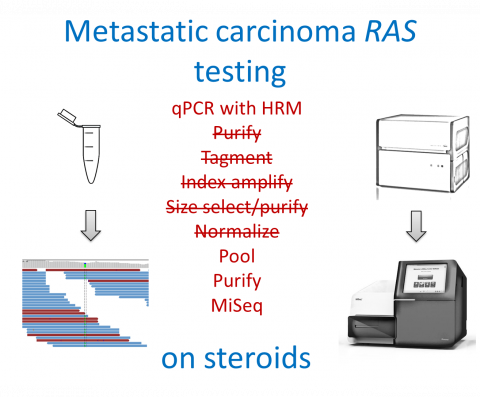 More information is available upon signing a CDA / NDA (Confidential Disclosure Agreement / Non-Disclosure Agreement)