INHIBITORS OF ANOPHELES GAMBIAE ACETYLCHOLINESTERASE AS INSECTICIDES
INTRODUCTION:
According to the World Malaria Report 2011, approximately 3.3 billion people are at risk for contracting malaria, and an estimated 216 million cases led to nearly 655,000 deaths in 2010. Insecticides are a proven approach to controlling the disease. However, current insecticides are hampered by their toxicity to humans and insecticide resistance.
TECHNOLOGY (INVENTION) DESCRIPTION:
Current anticholinesterase insecticides work through covalent modification of serine, thus disabling its catalytic function and incapacitating insects. However, because this serine is also ubiquitous in the AChEs of mammals and other species, anticholinesterase insecticides are toxic to the mammals, fishes, and birds. We synthesized and evaluated the new AChE inhibitors based on phenoxyacetamide structure. Inhibition activity of these new compounds was tested on Anopheles Gambiae and human acetylcholinesterase. All new compounds were more potent the literature standard (2) and/or more selective inhibitors in comparison with the standard carbamate (carbofuran) or organophosphate inhibitors (paraoxon).
ADVANTAGES OVER EXISTING SOLUTIONS:
A consequence of the limited number of insecticide classes and insecticide targets is the development of insecticide-related resistance, which highlights a vulnerability of current vector control strategies. Noncovalent inhibitors of AChE, such as the ones we have prepared and evaluated, provide valuable starting point towards novel class of insecticides and are complementary to existing covalent inhibitors. There is evidence that newly prepared phenoxyacetamides have markedly decreased in vivo toxicity to mice when compared to carbamate or organophosphate insecticides.
DEVELOPMENT STATUS (STAGE):
in vivo tests
IP PROTECTION STATUS:
Czech patent application PV 2019-660 (priority 25. 10. 2019).
TECHNOLOGY / IP OWNERS :
University Hospital Hradec Kralove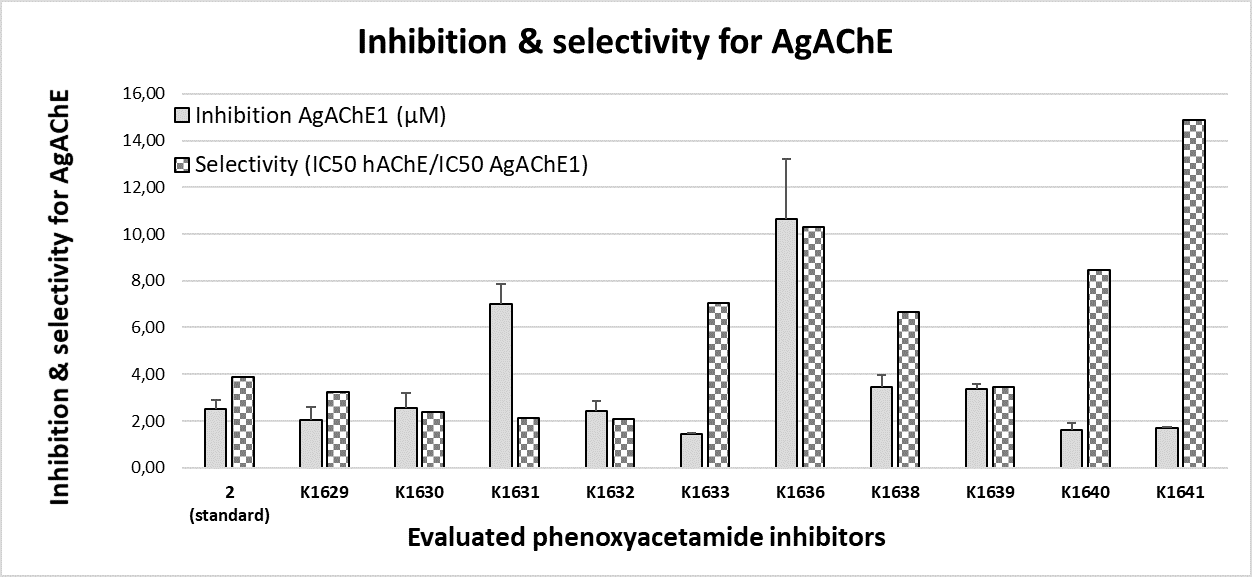 More information is available upon signing a CDA / NDA (Confidential Disclosure Agreement / Non-Disclosure Agreement)