Method of predicting the tumor response to DNA methylation inhibitors and alternative therapeutic regimens for overcoming resistance
INTRODUCTION:
Aberrant DNA methylation remains the consistent hallmark due to its frequent involvement in all types of cancer including myelodysplastic syndromes (MDS). Cytosine analogues currently one of the most effective epigenetic drugs inhibiting the expression of de novo DNA methyltransferases and have shown substantial potency in reactivating tumor suppre
TECHNOLOGY (INVENTION) DESCRIPTION:
The present invention provides a method for determining the response of the patients (i.e. sensitive or resistant) towards DNA methylation inhibitors and also provides the alternative therapeutic regimens to resolve the resistance.
ADVANTAGES OVER EXISTING SOLUTIONS:
Bromodomain containing genes and/or proteins disclosed in the present invention can be used as the biomarkers for predicting the clinical response towards the epigenetic therapy, targeting aberrant DNA methylation. The varying level of expression of the genes and/or proteins and the mutations involving non-synonymous change in amino acid sequence can be used as a fundament to differentiate between the responders and the non-responders. This provides the accessibility of the method of prediction, and personalization of the therapy. The patients who do not respond to the DNA methylation inhibitors and suffer from the primary resistance can be quickly eliminated from the ineffective treatment.
DEVELOPMENT STATUS (STAGE):
Laboratory scale, validation study on patient samples.
IP PROTECTION STATUS:
Patent protection: EP 14161897.5 fi led 2014-03-27 PCT/CZ2015/000029 fi led 2015-03-27
TECHNOLOGY / IP OWNERS :
Palacky University Olomouc – Institute of Molecular and Translational Medicine (IMTM), Faculty of Medicine and Dentistry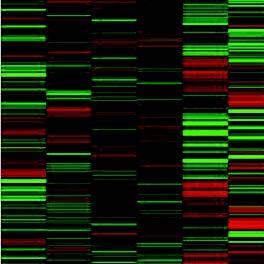 More information is available upon signing a CDA / NDA (Confidential Disclosure Agreement / Non-Disclosure Agreement)