Novel purine nucleoside phosphorylase inhibitors for treatment of T-cell leukemias
INTRODUCTION:
Purine nucleoside phosphorylase (PNP) is the key enzyme of the purine salvage pathway. The approval (Japan in 2017) of forodesine (ImmH), a transition-state analogue inhibitor of human PNP for treatment of peripheral T-cell lymphoma, validated PNP as druggable target with potential clinical applications, namely for treatment of T-cell leukemias.
TECHNOLOGY (INVENTION) DESCRIPTION:
We designed and synthesized novel PNP inhibitors based on acyclic nucleoside phosphonates, where the most potent compounds exhibited good potency in enzymatic assay (hPNP) but also significant cytotoxic effects in several leukemia cell lines (CCRF-CEM, MOLT-4, Jurkat). From the original SAR study, compounds JS-196 (phosphonate analogue), JS-458 (prodrug of JS-196), and JS-303 (sulfonate analogue) were selected for advanced biological evaluation. Scale up synthesis of selected candidates was developed and optimized. The tested compounds proved to be non-toxic in any of the cell lines tested under standard assay conditions, however, co-incubation of the cells with the inhibitors and 10 µM deoxyguanosine greatly enhanced cytotoxicity of many compounds. X-ray of hPNP with inhibitor obtained.
ADVANTAGES OVER EXISTING SOLUTIONS:
Several potent PNP inhibitors as well as back up compounds are available in our study. The preclinical candidates are being evaluated side by side with approved forodesine. Forodesine seems to be strongly cardiotoxic, our candidates seem to be devoid of such side effects. No genotoxicity was observed. In comparison to forodesine, our compounds have better or comparable microsomal and plasma stability. Solubility is improved when compared to some previously reported PNP inhibitors. Synthesis is straightforward and has been optimized for large scale preparations.
DEVELOPMENT STATUS (STAGE):
Preclinical studies, in vitro ADME data available, ongoing PK studies in mice, PD studies in xenograft mice in progress.
PUBLICATIONS:
No publication at the moment. Publications are in preparation. Patent was the priority.
IP PROTECTION STATUS:
Patent application has been submitted.
TECHNOLOGY / IP OWNERS :
Institute of Organic Chemistry and Biochemistry of the Czech Academy of Sciences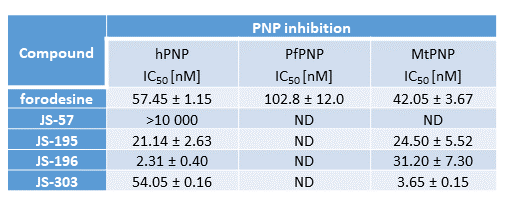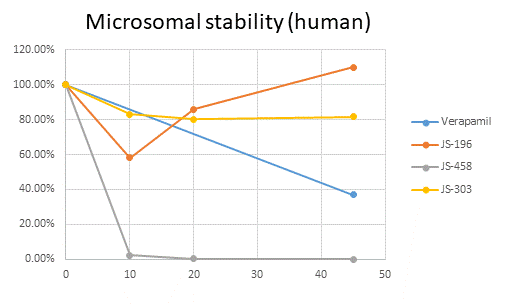 More information is available upon signing a CDA / NDA (Confidential Disclosure Agreement / Non-Disclosure Agreement)