INTRODUCTION:
New screening method for organic compounds based on Plasmonic Enhanced Raman scattering for application in the field of Environmental, Food, Pharma & Chem industrial analyses etc. Standardization protocol of PickMol technology is based on the verification by LCMSQTRAP & GCMS as standard validated method for PoPs analyses in water. PickMolTM technology represents a nano-optical chip (PickMol Sensing Chip), detection system (PickMol RAMASCOPE), measurement and evaluation software (PickMol sw/app) and database of pure forms of detected molecules (PickMol database)
TECHNOLOGY (INVENTION) DESCRIPTION:
The PickMol technology is based on plasmonic-enhanced Raman scattering (PERS) and is represented by an invention/ construction of nano-optical chip. Its function is built on the principle of plasmons generation on the tailored plasmonic nano-surface for the selective capture and detection of organic molecules.
ADVANTAGES OVER EXISTING SOLUTIONS:
The PickMol technology is screening method with sub-nanomolar (ppb) sensitivity, full green technology without sample pretreatment and use of any chemicals for detection of organic contaminants in liquids, portable system- detection on spot with instant results within 10 min, extremely cheap monitoring: the price of analysis is the price of nano-chip.
DEVELOPMENT STATUS (STAGE):
PickMolTM technology is market ready and offers complete solution.
IP PROTECTION STATUS:
Slovak Patent number SK127-2017, PCT patent number PCT/IB2018/060065
TECHNOLOGY / IP OWNERS :
prof.Pavol Miškovský, Saftra photonics sro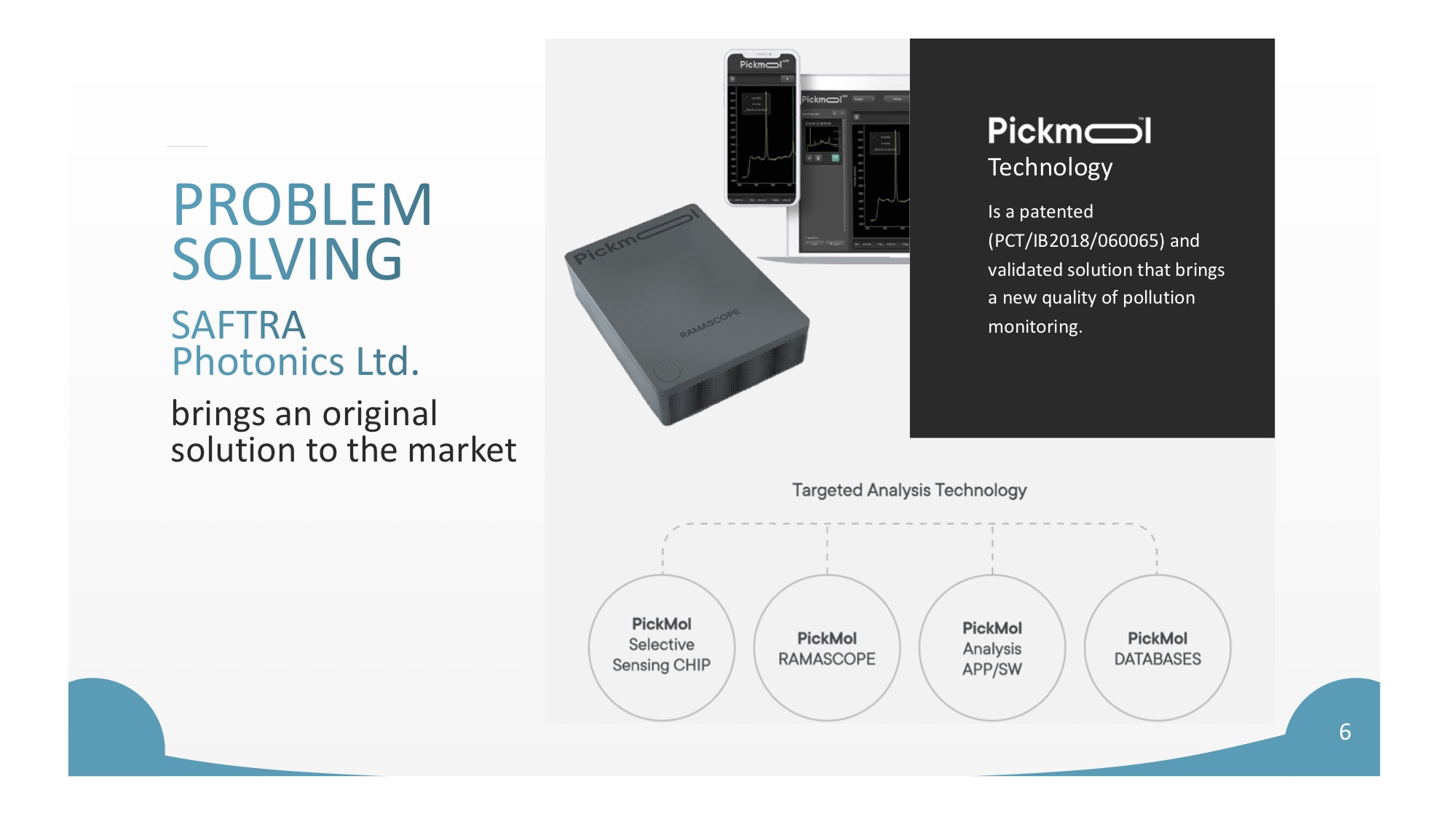 More information is available upon signing a CDA / NDA (Confidential Disclosure Agreement / Non-Disclosure Agreement)