Synthesis and application of new fluorescent dyes
INTRODUCTION:
Fluorescent molecules have been instrumental as labels and probes for bio-imaging. Expansion of the toolbox of fluorescent molecules with novel specificities, simple labeling procedures combined with good stability and minimal toxicity of the probes is always desirable.
TECHNOLOGY (INVENTION) DESCRIPTION:
We introduce an expanding family of non-planar (3D structured) cationic dyes with interesting fluorescent properties that are markedly environment sensitive (e.g. DNA, proteins, heparin, membranes). Our library of 1500 dyes is based on 19 skeletal structures, which are easily modified by standard commercially available chemicals to achieve favourable properties. Our compounds are being screened in various applications such as flow cytometry and microscopy. Strong non-linear optical properties of dyes and their applications in microscopy or spectroscopy are under investigation.
ADVANTAGES OVER EXISTING SOLUTIONS:
In contrast to a majority of established organic dyes used in bio-imaging, our dyes are significantly non-planar. Specific 3D structure of dyes brings new opportunities for specific detection and visualization of important biological structures and cell types. Furthermore, strong non-linear optical behavior of compounds increases potential of development of innovative application of dyes combining linear and non-linear optical microscopy methods.
DEVELOPMENT STATUS (STAGE):
Several applications in microscopy and flow cytometry have been successfuly tested.
IP PROTECTION STATUS:
Structures are protected by PCT application (PCT/CZ2015/000052).
TECHNOLOGY / IP OWNERS :
Institute of Organic Chemistry and Biochemistry of Czech Academy of Sciences, Prague, Czech Republic.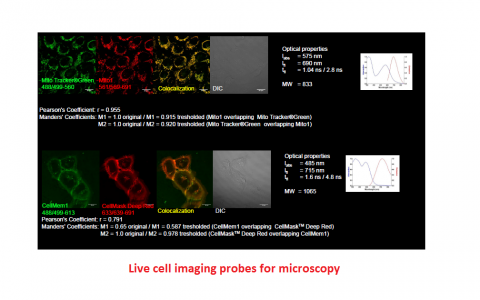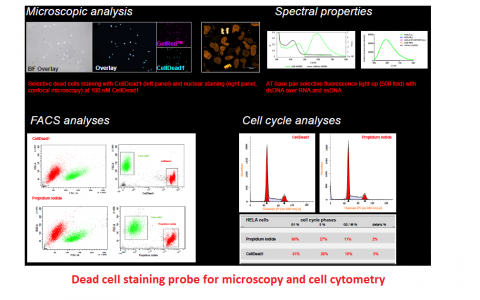 More information is available upon signing a CDA / NDA (Confidential Disclosure Agreement / Non-Disclosure Agreement)